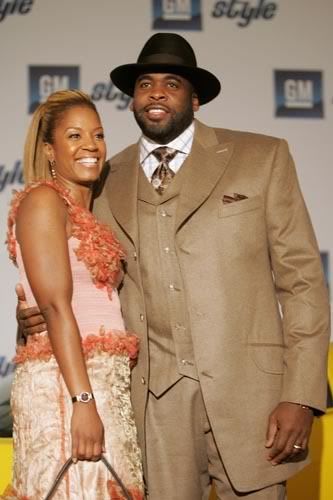 Kwame Kilpatrick is feeling more heat than Michael Jackson when he burned his Jerry Curl in that Pepsi commercial. Detroit Chickens are coming home to roost and the Mayor of this great city, the shining Kilpatrick star of yesterday is getting just a little bit dimmer every time we look.
Mayor Kilpatrick has been hit with some interesting and disturbing charges, including having police officers fired for their willingness to snitch on a stripper-heavy party held at the Mayor's Mansion. He has been charged with perjury for lying about an affair with his Chief of Staff. He has even been hit by a nasty rumor about a stripper named Strawberry, who was assassinated (yes, I said assassinated, since the shooter used a whole bunch of bullets) right before she was expected to blow the whistle on some possible misbehaving by Kwame and his Mayoral homeboys.
I don't know what's what, but I do know this: Kwame Kilpatrick is in serious trouble.
When I first met Kwame Kilpatrick, I wasn't sure what to expect. I'd heard about this highly successful young man, who'd found a way to become the youngest mayor in Detroit history. He was clearly a man of the people, earring, hip hop and all.
To my surprise, I didn't see the Tiger Woods-like focus I thought I would see from such a young achiever. I didn't see the damn-near holy charisma possessed by a future Barack Obama. I just saw Kwame Kilpatrick, a man who impressed me as neither extraordinarily capable nor incapable of doing the job.
Quite honestly, Kwame Kilpatrick left me a little empty, unsure if I was getting a great black leader of tomorrow or a privileged kid who was smart enough to ride the coat tails of a mother who'd served in Congress. I honestly saw a little bit of both, as listening to Kwame speak made me feel like I was hearing a politician, not a black leader, and not a visionary. But truth be told, I never held it against him, since politicians are trained to say alot without saying anything.
What I see in Kwame Kilpatrick is that he is simply YOUNG. Kilpatrick took on a huge job that most of us would not have been able to do successfully. He took on a city that has been gutted like an economic fish, with jobs leaving, crime rising and corruption left and right.
Kwame's public screw ups as an alleged cheater and perjurer are not, in my opinion, any worse than what Slick Willy (Bill Clinton) did in The White House. The difference is that Kwame Kilpatrick did not have a great economy to allow forgiveness of his sins. He also didn't have the privilege of white skin, nor the kind of charisma that makes women forget about the last 50 women you've slept with.
Kwame had none of that. He was no Bill Clinton. People didn't see him as a Slick Willy, they saw him as a Trifling Negro. Kwame Kilpatrick was simply Carolyn Kilpatrick's son. Had he not been Carolyn's son, he would not have been Mayor of Detroit.
Should Kwame be forgiven? I think he should. Should he be removed? Absolutely. The reality is that, although his job was one of the toughest in America, the truth is that he was not quite ready for it. What made it worse was that Kwame did not approach the job with the humility and focus necessary to take on such a daunting task. He approached it with arrogance, and the cavalier nature of a young man who didn't quite realize what he was getting into.
I don't disrespect Kwame Kilpatrick as a black man, because I still think he is an extraordinary human being. However, I fully understand why Detroit is angry. Given the crime, economy and horrible school system, Detroit residents have reason to be angry every time they walk out the door. But through his arrogance, mismanagement and audacious behavior, Kwame Kilpatrick made himself a convenient target.